Wednesday, July 8, 2009 at 12:28PM
Here we are - Part Two of Emily and Jeff's massive wedding post. Time for the real meat of the day - the ceremony and reception. Scroll down on the Blog for Part One, posted yesterday. If you read my blog via a Blog Reader, there is no question that you will want to click into the actual blog today - there are too many pictures for the readers. What can I say? I couldn't help myself!
Emily and Jeff had a first look (Part One) and we did the bulk of their pictures ahead of time. They were masterfull in scheduling all of this leaving us more than enough time to not only get all the pictures they wanted, but to have fun and not feel rushed doing it.
Let the ceremony begin:
I loved how Jeff walked both his parents in - how sweet is Jeff's Dad's arm around him?
Emily and her Dad hid off to the side waiting for their moment. I wish I knew what Emily was thinking during the picture on the right:
Leave it to Jeff to position himself in exactly the right spot for a dramatic "groom waiting" shot. Can't you just feel the anticipation?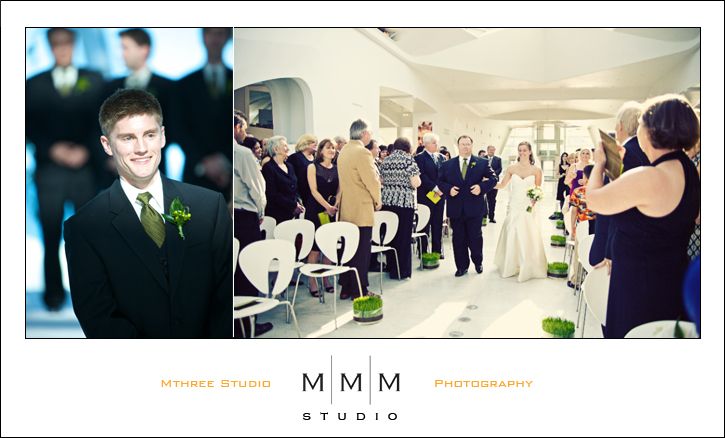 Love this moment, just seconds before they joined hands and walked up the steps.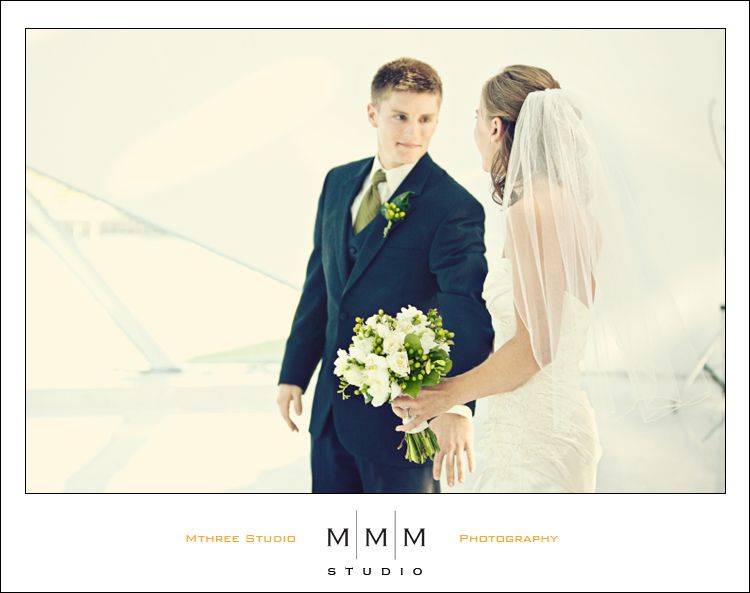 It never fails to impress me how awesome the Art Museum is:
I thought this look from Emily's Grandmother was priceless: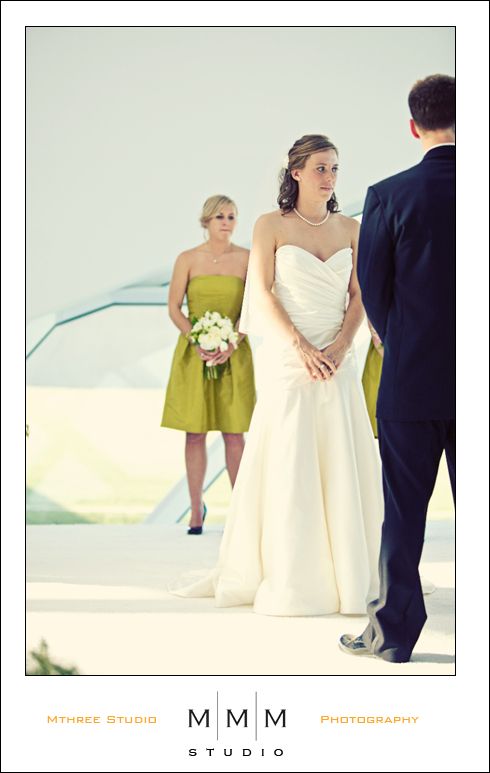 I can tell you that the picture on the right below is exactly the moment where I started tearing up for these two. They were so happy, so supremely joyful, and I just felt it right along with them. I was so thrilled for them.
We headed outside for family formals and then a few more pictures of Emily & Jeff post-nuptials. The light, well, the light was fantastic.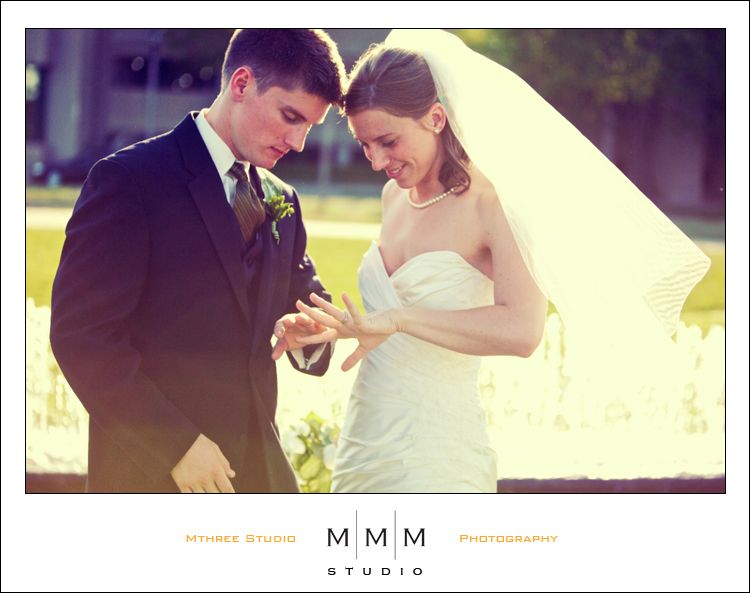 I know this one is a far from flattering picture of Jeff, but I just thought it was so funny with him caught in Emily's veil and making a face about it:
Could they be more adorable?
The Details:
Ceremony and Reception Venue: Milwaukee Art Museum, Quadracci Pavillion
Florist: Belle Fiori
Bride's Dress: Jim Hjelm (lace added by the bride)
Bridesmaid's Dresses: J Crew
Catering: Lee John's Catering
DJ: Sound By Design
Cake: Simmas Bakery
Invitations and other Paper Products: Designed by the Groom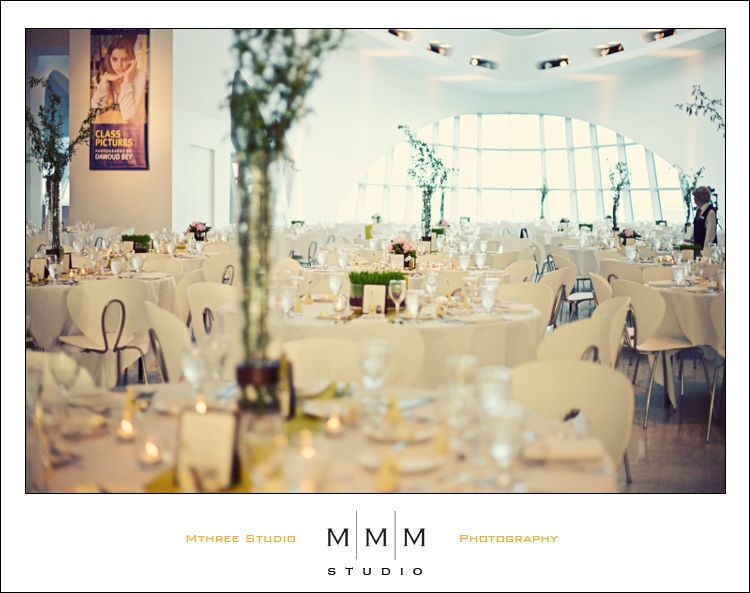 Massive Detail Board, and I left things out!


The Head table was positioned in front of the Dale Chiuly scuplture, which I think worked fantastically:
Somehow, Emily's sister Kate managed to gracefully work in "That's what she said" into her speech. It was hilarious!
First Dance: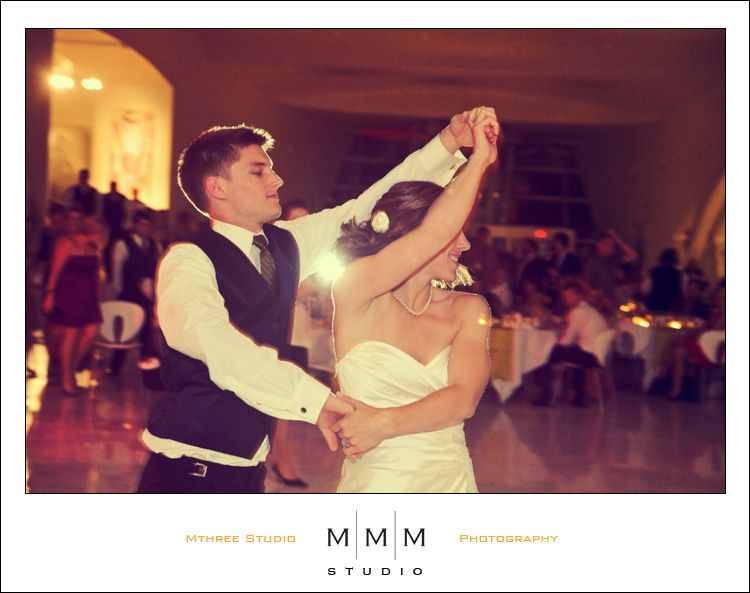 There was no stopping this crowd - a packed dance floor all night long:
The Bride's personal attendant, also named Emily, caught the bouquet - and I was so happy for her - she and Josh really are the next to get married in the group - their wedding is in October! They have served as attendants for three of my weddings now - I swear they should be professionals, they really do everything they can to pull off a flawless day for the couple. I know their wedding will be just as awesome.
This is my second or third wedding with couples from the UW-M swim or diving team. I've become accostomed to some of their rituals. One of the most fun is below. They all huddle up to do their team cheer, and then the guys get down on bended knee to serenade the bride with "You've lost that lovin' feeling". So awesome!
Emily and Jeff - it was such an immeasurable honor to be there to record your day and to experience it with you. You are more than awesome clients, you are friends. I know you have the most amazing marriage ahead of you, and I can't wait to watch it unfold. Thank you for inviting me into your lives, you are truly blessed with wonderful family and friends and I hope our paths cross again and again.
Check out more of the beauty, the heartbreaking moments and the hilarity in the slideshow by clicking below. There are so many moments that didn't make it into the pictures posted (hey, I had to draw the line somewhere). Cake smashing, a slideshow( that had me in tears when pictures of Jeff carrying Emily over the threshold of their new house came up), the cutest pregnant bridesmaid, the most beautiful junior bridesmaids, guests dancing with sheer abandon, You Tube watching, Emily's dad playing guitar during the ceremony, wedding gifts and so much more:
Emily & Jeff | Wedding Slideshow
Mthree
|
Comments Off
|
in
Photography,
Weddings